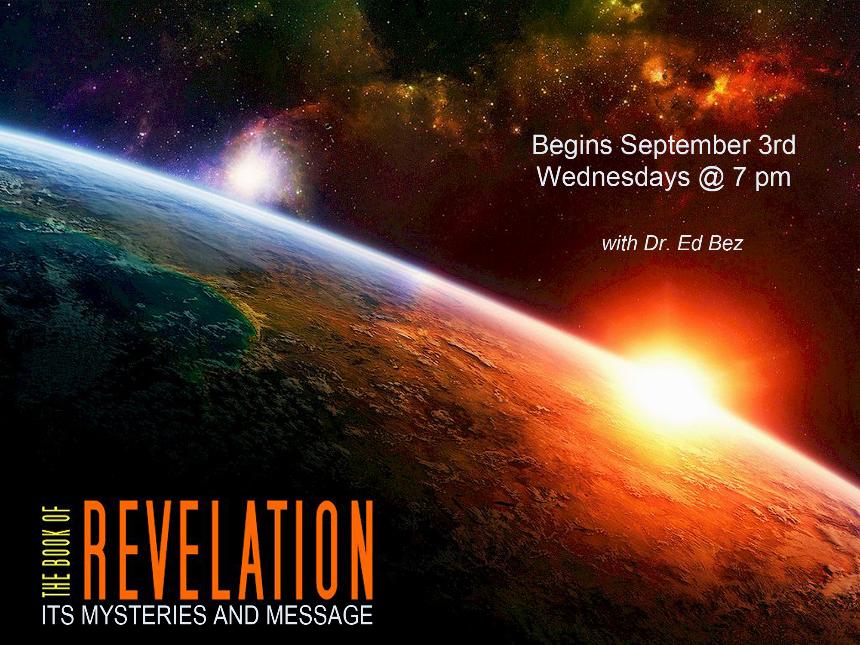 The Book of Revelation
Notes, comments, charts, and bibliography
Bibliography
Gregg,Steve. Revelation; four views, revised & updated - a parallel commentary. Thomas Nelson, 2013. pp606.
Pentecost, J. Dwight. Things to Come: a study in biblical eschatology. Zondervan. 1958, 14th printing 1976.
Price, Randall. Jerusalem in Prophecy. Harvest House, 1998. pp434.
Smith Wilbur M. World Crisis and the Prophetic Scriptures. Moody Bible Institute, 1950. pp276.
Rhoades,Ron. The End Times in Chronological Order: a complete overview to understanding bible prophecy. Harvest House, 2012. pp237.
Example of a novel that has impacted Catholic theology of the End-Times, most notably Pope Francis. (see note below)

Lord of the World is a 1907 apocalyptic novel by Robert Hugh Benson. It is sometimes deemed one of the first modern dystopias. Michael D. O'Brien's Catholic apocalyptic series, Children of the Last Days follows a very similar theme as well. Essentially the novel imagines a socialist and humanist world where religion has been either suppressed or ignored. People have no history or hope so they often turn to euthanasia, which is legal. Further there is a "one-world" government that uses Esperanto for its language and ultimately becomes a servant of the anti-Christ. In brief: The Catholic Church has been suppressed by the rest of the world, which has turned to the religion of Humanity modelled on that of Auguste Comte. (A scene in which the Antichrist leads a massed congregation in the worship of a nude female statue in St. Paul's Cathedral is a more decorous version of the worship of the Goddess of Reason in Notre Dame de Paris in 1793. Pope John XXIV has made an agreement with the Italian government: the Catholic Church can have all of Rome, while all other churches in Italy are surrendered to the government. The deposed royal houses of the world (including the Chinese imperial dynasty, who have converted to Catholicism) are now resident in Rome. Ireland still remains staunchly Catholic, with small enclaves all over the world. Westminster Cathedral is the only church in London that is still Catholic. The rest have become Freemasonic temples. The plot then follows the tale of a priest, Percy Franklin, who becomes Pope Silvester III, and an unknown man named Julian Felsenburgh (who is identical in looks to the priest) who becomes "Lord of the World".
On Your MARK. Get set. Go!
Studies in the Gospel according to St. Mark
Notes complied by Dr. Ed Bez
INTRODUCTION – The Action-packed story of Jesus.
Paratactic Style: Para Tactic
Parataxis

- stringing together (lit. "placing next to") short loosely connected episodes, like pearls on a string.
An amazing 410 of the 678 verses in the original Greek version of Mark's Gospel begin with the word "And" (Gk. kai)!
Immediacy

- Mark's Gospel emphasizes action, as seen in the frequent use of the Greek word euthys ("immediately, right away, at once, as soon as"), used an astounding 42 times, especially near the beginning of the Gospel (1:10, 12, 18, 20, 21, 23, 28, 29, 30, 42, 43; 2:8, 12; 3:6; 4:5, 15, 16, 17, 29; 5:2, 29, 30, 42; 6:25, 27, 45, 50, 54; 7:25; 8:10; 9:15, 20, 24; 10:52; 11:2, 3; 14:43, 45, 72; 15:1).
One could feel exhausted after reading Mark's Gospel, so quickly does the action seem to occur!

You can read the Gospel straight through in 90 minutes.



1. "The beginning of the gospel of Jesus Christ, the Son of God"... Mk 1:1-13 (read)
a. This is the Gospel for readers with a short attention span. For two reasons:
b. It's the shortest of the four gospels, likely the earliest one written; and without doubt the liveliest
If you add up everything Jesus says in this Gospel it only comes to 20 minutes!
If you add up all the events that are portrayed in this Gospel they only come to three weeks!
Mark is saying that if you only had 20 minutes of what Jesus was said and three weeks of what he did it would be enough to go on to become a Christian and see your life transformed.
Do you know anyone else about which this could be said!
This is the Gospel! The Good News!
c. It's light on talk, heavy on action!
o Forget Jesus' family tree
o Don't bother with his birth
o But jump feet first into the Jordan River
Where John the Immerser is dunkin' folks
When John adds this disclaimer "Someone is coming… read Mark 1:7-8
One verse later, Jesus is in the Water, too. Getting Baptized
A few dozen words after that, Satan is tempting him in the Judean badlands
A scene that lasts only two verses
With no dialogue…
Then Jesus is off to work…
a. Rounding up disciples
b. Healing hundreds
c. Feeding thousands
d. Freeing the tongue of the speechless
e. Tying the tongues of snooty scholars
f. Calming storms – within and without
g. Walking on water
h. Dying
i. Coming back to life!
It's a frantic pace…
… filled with adventure, intrigue, challenges, obstacles and ACTIONS.
On your Mark. Get Set. GO
Mark's Gospel is the shortest, earliest, and liveliest!
d. This Gospel is often overlooked because of the gospels of Matthew and Luke
2. Yet because of its brevity...
a. Mark's gospel is an ideal introduction to the Christian faith
b. In mission fields it is often the first book translated into a new language
I. AUTHOR AND DATE OF THE GOSPEL
A. John Mark...
1. Who apparently came from a wealthy family
a. His mother was Mary, who had a large house in Jerusalem - Ac 12:12
1) Some speculate the Last Supper took place in her home; the Upper Room
2) Also that Mark may have been the young man who fled naked at Jesus' arrest - Mk 14:51-52
This information is so inconsequential that scholars see it as evidence that John Mark was the one who was there.
This is called INTERNAL evidence of authorship
Mark is Peter's disciple and recorder.
As such it is important to recognize that this is the one Gospel that consistently knocks Simon Peter down a peg or two. This is likely because Peter instructed Mark to record him in a more humbled context; likely evidence of Peter's maturity!
b. His cousin was Barnabas, a Levite from Cyprus - Ac 4:36-37; Co 4:10
c. Perhaps he was among the 72 disciples commissioned in Luke 10:1
2. Who traveled with Paul and Barnabas
a. Starting out on their first missionary journey, but turned back - Ac 13:5, 13
b. Which caused trouble between Paul and Barnabas - Ac 15:36-41
c. He later became a fellow laborer and comfort to Paul - Phe 1:24; Co 4:10-11
d. In Paul's final words, Mark proved "useful to me for ministry" - 2Ti 4:11
3. Who also accompanied Peter
a. Who called him "his son" (his convert?) - 1Pe 5:13
b. Who was in "Babylon" (possibly Rome) at the time
4. Traditions outside the Bible state:
a. Mark was an interpreter for Peter - Papias, 130 A.D.
b. Mark composed his gospel mostly from Peter's memoirs - Justin Martyr, 150 A.D.
c. Mark went to Alexandria in Egypt where he died in 64 A.D.
a. Historically, Christians in Egypt, from earliest times have acknowledged and appreciated Mark as the "bringer of the Gospel" to Egypt.
b. Egyptian Christians are known as Coptics
-- The early and unanimous opinion is that John Mark wrote this gospel
B. BEFORE 64 A.D....
1. Certainly so, if written by one who died in 64 A.D.
2. Barnes suggests between 56 and 63 A.D.
3. Some scholars date the book in the early 50's
-- A plausible date would 57-59 A.D
II. THEME AND OUTLINE OF THE GOSPEL
A. ITS THEME OR PURPOSE...
1. Written to Gentiles, perhaps Christians in Rome; note the following:
a. Jewish customs are explained - e.g., Mk 7:3-4
b. Aramaic expresses are translated into Greek - e.g., Mk 3:17; 5:41; 7:11
c. Roman reckoning of time is used - e.g., Mk 6:48; 13:35
d. Only Mark identifies Simon of Cyrene as the father of Rufus - cf. Mk 15:21; Ro 16:13
e. Few OT quotations are used
2. The focus appears to be on Jesus as the Perfect Servant (BBC)
a. Mark emphasizes the deeds of the Lord more than His words
b. He records nineteen miracles, but only four parables
c. The deeds of one who "did not come to be served, but to serve" - Mk 10:45
-- Thus one could say that the theme is: "Jesus, Servant of Man"
B. A SIMPLE OUTLINE...
1. The preparation for Jesus' ministry - Mk 1:2-13
2. His ministry in Galilee - Mk 1:14-9:50
3. His journey to Jerusalem - Mk 10:1-52
4. His ministry in Jerusalem - Mk 11:1-13:37
5. His suffering and death in Jerusalem - Mk 14:1-15:47
6. His resurrection and appearances - Mk 16:1-13
7. His great commission and continued work from heaven - Mk 16:14-20
-- Jesus came from heaven to serve, and returned to heaven to serve!
III. SPECIAL CHARACTERISTICS OF THE GOSPEL
A. AN EARLY GOSPEL...
1. Probably the first one written
2. All but 31 verses are quoted in the other gospels
3. Leading many to conclude that Matthew and Luke based their gospels on Mark
B. A CONCISE GOSPEL...
1. The shortest of the four gospels
2. Luke has 1151 verses, Matthew 1071, John 879, Mark 661
3. Mark's entire gospel can be read aloud in 1.5 hours
C. A FAST-PACED GOSPEL...
1. Over 40 times he uses a word translated "straightway" or "immediately"
2. Two-thirds of the verses begin with "and"
3. The present tense is used frequently (e.g., they come...He says...He sends...)
D. A VIVID GOSPEL...
1. Mark presents "lively little touches" not found in the other gospels -
2. "...he wrote with all the graphic distinctiveness and vividness of an eyewitness
3. It may have been Peter's reminiscences, or perhaps his own, that account for such details
E. AN EVANGELISTIC GOSPEL
1. It opens with "The beginning of the gospel of Jesus Christ..." - Mk 1:1
2. It closes with "Go into all the world and preach the gospel to every creature" - Mk 16:15
CONCLUSION
1. What Mark accomplished with his gospel in the first century was significant...
a. He left a record of the gospel preached by Peter
b. Which emphasized the things that Jesus did - cf. Ac 10:36-39
c. That stressed the servitude of Jesus as the Son of Man - cf. Mk 10:45
2. It can serve an important purpose for us today, reminding us...
a. That Jesus came to serve, and continues to serve - cf. He 7:25
b. That Christian discipleship likewise involves service - cf. Ga 5:13
3. Mark's own life was one of early failure, redeemed by later devotion
a. He got off to a rocky start in his service for the gospel of Christ
b. But he persevered and proved to Paul that he was "useful...for ministry"
May Mark's gospel of Jesus Christ ( who came to serve) , inspire us to likewise become servants who are "useful for the Master, prepared for every good work" - 2Timothy 2:21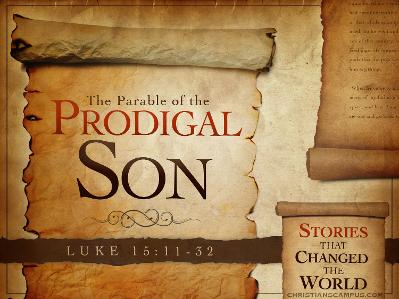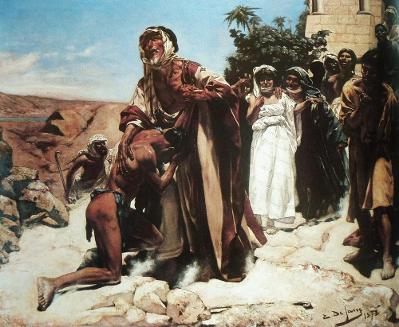 Introduction :
This series was presented at The Church at Covington in July-August 2013.
The focus of this short series was to explore the Middle Eastern cultural interpretation of this most popular Parable. When viewed through eastern eyes the parable takes on a richer fabric of meaning and application.
Materials compiled and arranged by Dr. ed Bez
Resources:
Helmut Thielicke, The Waiting Father: The Parables of Jesus,
Henri J.M. Nouwen, The Return of the Prodigal: A Story of Homecoming
Kenneth E. Bailey, Poet and Peasant & Through Peasant Eyes, A Literary-Cultural Approach to the Parables in Luke.
October 1998 issue of "Christianity Today," which featured various studies on this powerful parable.
Return of the Prodigal
by Edouard de Jans (Belgian, 1855-1919)
Brugge:Groeninge Museum (Belgium) - Style:Orientalism 1878
Why Did the Father Run?
Luke 15: 20
So, why did the father run? He probably ran in order to get to his son before he entered the village. The father runs — and shames himself — in an effort to get to his son before the community gets to him, so that his son does not experience the shame and humiliation of their taunting and rejection. The village would have followed the running father, would have witnessed what took place at the edge of the village between father and son. After this emotional reuniting of the prodigal son with his father, it was clear that there would be no kezazah ceremony; there would be no rejecting this son — despite what he has done. The son had repented and returned to the father. The father had taken the full shame that should have fallen upon his son and clearly shown to the entire community that his son was welcome back home.

The amazing application for our own lives is crystal clear. Our heavenly Father has taken our shame through his Son, Jesus, who willingly endured the cross on our behalf. He took our sins' shame so that we would not have to. As a result, we can be forgiven, restored — accepted. We do not have to fear going home to our Father and confessing our sins, no matter what we have done, or how many times we have done it (remember, Jesus taught his followers to forgive 70 times seven).

In the parable, only the father could restore the son to full sonship in the family. In our case, we are sinners, and there is nothing that we can do to restore our lost relationship with the Holy God of the Universe. He calls us and waits — a single repentant step in his direction, and he is off and running to welcome us back home!
The two brothers represent the two basic ways people try to make life work.
1.) The younger son pursues "self-discovery"—he's on a quest to find and fulfill himself, even if a few people have to get hurt along the way.
2.) The older brother is committed to a more socially respectable way of being in the world—the way of "moral conformity." He's on a program of "self-salvation", earning the approval of his community and the favor of his father; when he feels the terms of this deal are violated, his good attitude evaporates into resentment.
But the older son's conduct—refusing to join the party for his brother and arguing with his dad in front of the guests—is no less egregious.
Hospitality was of supreme value in 1st-century Palestine. The entire village would likely have been invited to the party, and the oldest son would be expected to co-host the proceedings. His refusal is another round of humiliating rejection for the father.
But the father actually goes out looking for this son, entreating him to come join the party, and Jesus leaves the story unfinished.
Will the son abandon his own plan for making life work and accept the extravagant gift of his father's love and inclusion?
Or will he stick to the terms of his deal and exclude himself from his place in the family?
He is an angry soul
The older son is angry. He is without joy. Everything left in the house is legally his. He has received the full right of inheritance. The will has been probated. The younger son gets nothing of what's left. The elder gets it all. But the father still maintains authority. The elder has possession, but not disposition. The recently butchered calf is also his. Perhaps he feels that father had no right to do this without consultation. "It wasn't his to kill."
From an Eastern Perspective, from Jesus' perspective, having a feast in one's honor is a blessing, but being asked to help host the banquet is a vastly greater honor.
Give AND IT SHALL BE GIVEN- Luke 6:38
More blessed to give than receive!- Acts 20:35
Biblical One Hit Wonders Series
Welcome to a series of expositions by Dr. Ed Bez on the books of the Bible which contain only one chapter.
There are four books in the New Testament (Philemon, II and III John and Jude) and only one Old Testament book, Obadiah.
There are 21 Epistles in the New Testament. These 21 writings are classified as either Pauline (written by Apostle Paul, dah!) or Non-Pauline or General Epistles.
Pauline Epistles are further classified as either written to churches (9) or to individuals (4); sometimes the private letters to individuals are called the pastoral Epistles.
The pastoral Epistles include, I and II Timothy, Titus and PHILEMON.
Philemon appears to have been among the Prison correspondences of the Apostle Paul. The Prison Epistles were likely written from Rome as Paul was under house arrest. The Prison Epistles include Ephesians, Philippians, Colossians and PHILEMON.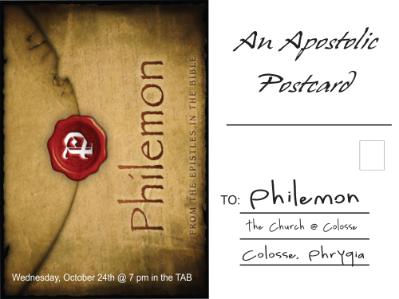 Outline
Paul imprisoned
1. Undistracted
2. Focused
3. Articulate
4. Does his best work when confined, restricted, and at some levels handicapped
a. The Lord can and will use us even if we find ourselves in a place (condition, circumstance) not of our choosing or liking.
b. In fact, the Lord can and will divinely engineer situations which bring us into a place of confinement.
i. Confinement is not to make us miserable but:
1. To refine us
2. To redefine us
a. In terms of our mission, purpose, vision and goals
b. In terms of the direction and trajectory of our lives
Paul very occupied with a dozen other 'pressing' issues
1. The care of
a. the churches
b. His entourage
c. the Brethren back in Jerusalem
d. His legal situation
e. His being hunted and haunted by Judaizers
2. But…Paul took time to care for one single soul; Onesimus
a. And that soul was a slave
i. Lowest on the social scale
Paul was an aged man!
1. This letter demonstrates the nature of the relationship between a Senior minister and their converts, or those over which they have spiritual input and responsibility
a. Expectations
i. Honor
ii. Respect
iii. Appreciation
iv. Under girding prayer
Onesimus was likely one of the most trusted slaves/servants of Philemon
• Thus the betrayal was specially grievous
• Thus it would take an Apostolic intervention to 'save' his actual life
Slaves could be executed by their owners for just about any cause
Slaves had a status that was equal to 'property'
Slaves where viewed as 'things'
Paul teaches us that:
Every soul has worth, value, and status in the kingdom
1. Even the lowliest; slave
2. That we ought, therefore to always, view one another through kingdom lens
3. That we ought to extend grace, love, acceptance, and forgiveness to all repentant souls; even those that have most grievously betrayed us!
a. Father forgive them
b. How many times do we forgive? Seven times?
What is more contentious is how Onesimus came to be with Paul. Various suggestions have been given:
1. Onesimus being imprisoned with Paul;
2. Onesimus being brought to Paul by others;
3. Onesimus coming to Paul by chance (or in the Christian view, by divine providence);
4. Onesimus deliberately seeking Paul out, as a friend of his master's, in order to be reconciled.
The fact that Paul enjoins Philemon to prepare a room for Paul's later visit – even though Paul is currently in prison without a stated commutation of sentence – could be read as a subtle threat: Paul would come to ensure his wish for Onesimus's freedom was in fact carried out by Philemon.
Onesimus as Bishop?
Ignatius of Antioch mentions an Onesimus as Bishop of Ephesus in the early second century.
1. It was suggested by some Bible scholars that this Onesimus is the same as the Onesimus in Paul's letter.
2. Furthermore, it was suggested that Onesimus could have been the first to compile the letters of Paul, including the letter that gave him his own freedom as an expression of gratitude. This hypothesis could explain why the letter to Philemon (a letter written to an individual) is included alongside letters written to Christian communities.
His tactful address to Philemon was labelled "holy flattery" by Martin Luther. Commending Philemon's Christian compassion, but at the same time subtly reminding Philemon of his apostolic authority over him, and the spiritual debt Philemon owes to him,
Such feelings of benevolence may have been of value to slave owners themselves as it allowed them to focus on a 'humane component' in the human traffic of slavery. In general, it was more common for older slaves to be given freedom, once they had reached the age where they were beginning to be less useful. Legislation under the early Roman empire put limits on the number of slaves that could be freed in wills (Fufio-Caninian law 2 BC), which suggests that it had been widely used.
Manumissions
Manumission is the act of a slave owner freeing their slaves.
Freeing slaves could serve the pragmatic interests of the owner. The prospect of manumission worked as an incentive for slaves to be industrious and compliant. Roman slaves were paid a wage (pecunium) with which they could save up to, in effect, buy themselves. Or to put it from the master's point of view, they are providing the money to buy a fresh and probably younger version of themselves. Manumission contracts found in some abundance at Delphi specify in detail the prerequisites for liberation.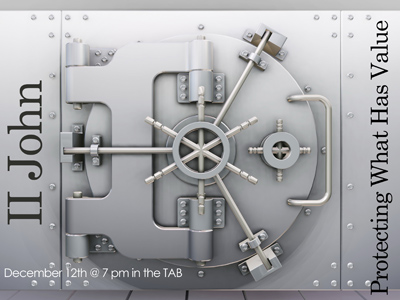 BRIEF OUTLINE
1. Greetings (1-3)
2. Exhortation to walk in truth and love (4-6)
3. Warning not to receive false teachers (7-11)
4. Concluding remarks (12-13)
[With this brief background to the epistle, let's take a closer look at...]
INTRODUCTION
1. In the First Century A.D., the early church enjoyed remarkable growth and spread throughout the world at that time - cf. Acts 8:5; Rom 10:14-18; Col 1:5-6,23
2. What accounted for this spread of the gospel? There were likely several factors, but one was certainly the "hospitality" of the early Christians...
a. Paul was able to travel and depend upon Christians opening their homes to him - cf. Philemon 22
b. He encouraged Christians to support those who were teachers of good things - Gal 6:6
c. John commended and encouraged those who provided lodging and support for traveling missionaries - 3 Jn 5-8
3. But showing such "hospitality" was not without its potential for supporting the spread of false teachers and their doctrines...
a. It would be easy for teachers of error to take advantage of the Christians' natural propensity to be hospitable to strangers
b. Thus it was necessary to counsel Christians to use proper discernment in sending traveling teachers on their way
I. BACKGROUND INFORMATION
A. THE AUTHOR - "THE ELDER"...
1. Believed by most conservative scholars to be the apostle John (The Love Apostle)
a. He wrote the Gospel of John
b. He wrote three Epistles
c. He wrote the Apocalypse (Book of Revelation)
2. The internal evidence...
a. The three epistles of John utilize much the same language and ideas
b. All bear similarity to concepts and language to the Gospel of John
c. The term "elder" would be a fitting description of John as the author, writing in his old age
1.) He survived imprisonment on the Roman penal colony-the island of Patmos (Rev 1:9)
2.) He survived being immersed in boiling oil
3.) Likely served as Pastor emeritus at Ephesus
3. The external evidence...
a. Irenaeus, a disciple of Polycarp (who in turn was an associate of John), quotes from it and mentions the apostle John by name
b. Both Clement of Alexandria and Dionysius, living in the third century A.D., credit John with being the author
B. RECIPIENTS - "THE ELECT LADY AND HER CHILDREN"...
1. Taken literally, the epistle is written to a particular woman and her children
a. Many scholars understand this to be the case; e.g., Plummer, Ross, Ryrie
b. Some have even supposed the Greek words for "elect lady" may refer to given names:
1) Electa the Lady
2) The chosen Kyria
3) Electa Kyria
2. Taken figuratively, it could refer to a local house church
a. Scholars who hold to this view include Brooke, Bruce, Marshall, Stott, Westcott
b. They understand that "elect lady and her children" (1) and "children of your elect sister" refer to particular congregations
C. PLACE AND DATE OF WRITING...
1. Ephesus is usually suggested as the location from which John wrote this epistle, as he was known to live there in the later years of his life
2. Estimation of the date of writing varies widely, some placing it before the destruction of Jerusalem (70 A.D.), most however placing it around 90-95 A.D.
D. PURPOSE OF THE EPISTLE...
1. To encourage brotherly love, and keeping the commandments of God - 2 Jn 5-6
2. To warn against supporting or encouraging false teachers - 2 Jn 10-11
II. THE SALUTATION (1-3)
A. "THE ELDER, TO THE ELECT LADY AND HER CHILDREN..." (1-2)
1. As discussed in the previous section, I understand John to address a particular lady and her Children
2. Concerning this lady and her children, John writes of...
a. His love for them: "whom I love in truth" (that is, whom he truly loves)
b. The love held for them by others who are Christians ("those who have known the truth")
3. The basis for this love?
a. Not for any personal charm or unusual attractiveness
b. But because of "the truth which abides in us"
1) This "truth" may summarize all that is contained in Jesus Christ and His gospel
2) Sharing in this "truth" naturally engenders love for one another
3) Especially the sort of "true love" or "sincere love" made possible by our obedience to the truth - cf. 1 Pe 1:22-23
B. "GRACE, MERCY, AND PEACE WILL BE WITH YOU..." (3)
1. These three words refer to wonderful blessings from God
a. "grace" - unmerited favor, which God bestows on the undeserving
b. "mercy" - compassion, shown toward the guilty and helpless
c. "peace" - tranquility, which is the result of receiving God's grace and mercy
2. The source of these blessings
a. "from God the Father"
b. "from the Lord Jesus Christ, the Son of the Father"
3. The sphere in which these blessings are to be found: "in truth and love"
a. Grace, mercy, and peace are realized only when truth is honored and held
b. They are experienced only when the commandment to love is kept (e.g., there is no mercy shown to the unloving and unmerciful)
CONCLUSION
1. With the words "in truth and love", John sets the tone for what is to follow in his letter...
a. An exhortation to keep the commandment to love one another
b. A warning against supporting those who would deny the truth
2. With this introduction to "A Letter to a Lady and Her Children", I hope that I have set the tone for what should always be true in our relationship as Christians...
a. A true love for one another because of the truth that we all share
b. A desire to walk in truth and love, for only then can we truly receive grace, mercy, and peace
2 John 4-6
INTRODUCTION
1. In his greeting to the "elect lady and her children", John wrote that the grace, mercy, and love which proceeds from the Father and the Son is in the sphere of "truth and love" - 2 Jn 3
2. In verses 4-6, he expands upon the theme of "truth and love", doing so in the form of...
a. A commendation for walking in truth
b. An exhortation to love one another
3. In this study, let's examine this "commendation" and "exhortation", seeking to glean whatever principles or lessons that we can from this passage
[Beginning with John's...]
III. COMMENDATION FOR WALKING IN TRUTH (4)
A. "I REJOICED GREATLY..."
1. Either by visiting or by receiving a report from others, John came to know that some of the "elect lady's" children were walking in the truth
2. This was a source of great joy to John, just as it was when he heard the same thing about Gaius - cf. 3 Jn 3
3. As expressed to Gaius, there was no greater joy than hearing about others walking in truth - cf. 3 Jn 4
4. What about the joy of hearing someone obeying the gospel?
a. As great as that might be, there is always the possibility that one will not carry through with their initial obedience to Christ
b. That realization can temper one's joy
c. But when time reveals that the person continues to walk in truth, that removes the question of whether one will carry through with their obedience to Christ
B. "I HAVE FOUND SOME OF YOUR CHILDREN..."
1. Unfortunately, John could not say "all", but only "some"
2. This reminds us that even the best of parents may have erring children
a. Despite the fact that this mother was so special she was called "the elect lady"
b. Like Samuel, the prophet of God, she had some children who were not faithful to the Lord - cf. 1 Sam 8:1-3
3. Whose fault is this?
a. Some might say that in view of Pro 22:6, an erring child is always the parent's fault
b. However, such a view of Pro 22:6 suggests a belief in "environmental predestination"
1) I.e., that if the parent provides the proper environment in raising the child, there is no choice for the child but to turn out a certain way
I. Consider the Garden of Eden; perfect environment for man but what did man do with that most perfect environment, which included daily face-to-face conversations with God?
2) This would strip the child of any personal responsibility, and lay the blame solely upon the parents
3) While the parent will bear some responsibility if no effort is made to restrain the child in his rebellion, behavior , and sin, the ultimate responsibility is the child's - cf. 1 Sam 3:11-13; Ezek 18:20
c. There is another view of Pro 22:6...
1) The literal rendering is "train up a child according to his own way..."
2) I.e., according to his own temperament, aptitude, etc.
3) E.g., if he is mechanically inclined, don't try to make him an office worker
4) This view recognizes that this verse, like much of Proverbs, is giving practical advice on the raising of children, and to realize that children are different and should be raised according to their particular disposition and skills
5) Failure to recognize this results in a child being forced to become something he is not, and he will not likely remain in it
4. The fact remains that despite the best parenting, some children simply choose to rebel against God
C. "WALKING IN TRUTH, AS WE HAVE RECEIVED COMMANDMENT FROM
THE FATHER..."
1. This expresses the idea of living in harmony with the truth found in God's Word
2. Everything one does demonstrates a life that is governed by God's commandments
3. Is this "legalism"? No! It is what it means to truly love God - cf. 1 Jn 5:3; Jn 14:15; 15:14
[So with great joy in his heart, John commends the elect lady and her children for their walking in the truth. But an emphasis on walking in truth without an equal emphasis on loving one another can easily develop a harsh, impatient, and insensitive disposition towards others, just as knowledge without love produces arrogance (cf. 1 Co 8:1).
a. All truth and no love tends toward spiritual arrogance.
i. Harsh
ii. Impatient
iii. Insensitive disposition
b. All love and no truth tends toward spiritual air headedness
i. Silly
ii. Gullible
iii. Compromising disposition
c. All Word and no Spirit you dry up
d. All Spirit and no Word you blow up
e. Word and Spirit in balance you grow up.
IV. EXHORTATION TO LOVE ONE ANOTHER (5-6)
A. "AND NOW I PLEAD WITH YOU, LADY..."
1. John's tone suggests the seriousness of this exhortation
2. Certainly John stressed in his first epistle the importance of this command to love one another - cf. 1 Jn 2:10; 3:14; 4:20-21
3. Therefore this is a commandment not to be taken lightly
B. "NOT AS THOUGH I WROTE A NEW COMMANDMENT..."
1. The commandment is not a new one
a. It did not originate from John
b. It is one which his readers had known since the beginning of their Christian experience - cf. 1 Jn 2:7; 3:11
2. It is the commandment given by Jesus Himself - Jn 13:34-35; 15:17
C. "THAT WE LOVE ONE ANOTHER..."
1. The commandment given by Jesus is to love another
2. Especially according to the standard of love laid down by Jesus: "as I have loved you, that you also love one another" - Jn 13:34
D. "THIS IS LOVE THAT WE WALK ACCORDING TO HIS COMMANDMENTS..."
1. Here we learn what best demonstrates that we truly love one another
2. When I am keeping the commandments of God, I demonstrate true love for my brethren! - cf. 1 Jn 5:2
3. I can claim brotherly love all day long, but unless I am walking according to God's commandments my claim is meaningless
E. "THIS IS THE COMMANDMENT...YOU SHOULD WALK IN IT..."
1. This sentence is simply reinforcing what John has been saying
a. The command to love is one we have had from the beginning
b. We should therefore keep this commanding by walking in love
2. Such repetition is often necessary...
a. For there is always a tendency to hear and not obey
b. The three "R's" of learning is "repetition, repetition, repetition"
CONCLUSION
1. With joy in his heart, John commends; with a pleading voice he exhorts...
a. He commends them for walking in truth
b. He exhorts them to walk in love
2. There is ever a tendency to do one without the other...
a. Some hold to the truth, but do so without love; this breeds harshness
b. Others are quick to display love, but neglect the truth; this produces compromise
3. Both are wrong, and there is only one alternative: to walk in the truth, and to walk in love!
May God help us always to do both faithfully!
INTRODUCTION- Warning against Receiving False Teachers
2 John 7-13
1. In our brief survey of 2nd John, we have seen that John stressed the importance of "truth" and"love"...
a. Four times in the first six verses he uses the word "love"
b. Five times in these same verses he uses the word "truth"
2. Indeed, our last study observed that in verses 4-6 we have...
a. A commendation for walking in truth - 2 Jn 4
b. An exhortation to walk in love - 2 Jn 5-6
3. But what if someone comes our way, teaching doctrine contrary to what we have learned from Jesus and His apostles...?
a. Should our desire to "walk in love" permit us to receive and support those teaching error?
b. Can we do so and still be "walking in truth"?
4. In the remaining portion of this short epistle, John (the "apostle of love") is very explicit about such things...
a. He tells us to beware of deceivers and antichrists - 2 Jn 7
b. He tells us to look to ourselves lest we lose those things we have worked for - 2 Jn 8
c. He tells us of the danger of not abiding in the doctrine of Christ - 2 Jn 9
d. He tells us we cannot support teachers who fail to teach the doctrine of Christ without sharing in their evil deeds - 2 Jn 10-11
In this "Warning against Receiving False Teachers", then, John warn us about several things worthy of our careful consideration. Let's take a closer look, beginning with a need to...]
V. BEWARE OF DECEIVERS AND ANTICHRISTS! (7)
A. JESUS AND HIS APOSTLES HAVE GIVEN US AMPLE WARNING...
1. In His sermon on the mount - Mt 7:15
2. In His discourse on Mt. Olives - Mt 24:11, 23-25
3. Paul, in his farewell address to the Ephesian elders - Ac 20:29-31
4. Paul, in his first epistle to Timothy - 1 Ti 4:1-3
5. Peter, in his second epistle - 2 Pe 2:1-3
B. EVEN IN JOHN'S DAY, THEY HAD BEGUN TO ARRIVE...
1. Deceivers had gone out, denying that Jesus had come in the flesh - 2 Jn 7
2. Many false prophets had gone out into the world - 1 Jn 4:1
3. Denying that Jesus Christ came in the flesh, they were "antichrists" - 1 Jn 4:3; 2 Jn 7
[With such ample warning, and seeing that they had started to come even in John's day, we should not be surprised to see many such deceivers and antichrists today! To guard against being misled by such deceivers, we do well to consider the next important theme in our text...]
VI. LOOK TO YOURSELVES! (8)
A. THIS ADMONITION ALSO STRESSED THROUGHOUT THE SCRIPTURES...
1. Several times on one occasion by Jesus - Mk 13:5, 9, 23, 33
2. By Paul in writing to the Corinthians - 2 Cor 13:5
B. THE NEED IS THERE, BECAUSE THE DANGER IS REAL...
1. John was concerned that they not lose the things they worked for - 2 Jn 8
2. The writer to the Hebrews was concerned that we not fall short of entering our heavenly rest - cf. He 3:12-4:1
[With the real danger of falling short of our eternal reward, and with the ever present deceivers who can make it happen, it is imperative that we fully understand the basis upon which our relationship with the Father and Son rests. John is clear about this involves as he stresses the need to...]
VII. ABIDE IN THE DOCTRINE OF CHRIST! (9)
A. THE DOCTRINE OF CHRIST: OBJECTIVE OR SUBJECTIVE GENITIVE...?
1. Is it the doctrine about Christ, or the doctrine taught by Christ?
2. The question is of little importance for John holds equally to both positions
a. It is fundamental to the faith to hold to the proper views about Christ - cf. 2 Jn 7
b. It is fundamental to the faith to obey the commandments of Christ - cf. 1 Jn 3:24
3. Thus what John says here applies in either case
B. THE NEED TO ABIDE IN THE DOCTRINE OF CHRIST...
1. Those who do not abide do not have God - e.g., 1 Jn 1:6; 2:3-5
2. Those who do abide, have both the Father and the Son - cf. Jn 14:21,23
[As long as we abide in the doctrine of Christ, keeping His commandments, we have no reason to fear being misled by deceivers, nor losing our reward. That brings us to the theme which may have prompted the writing of this letter...]
VIIII. DO NOT RECEIVE FALSE TEACHERS! (10-11)
A. THE CONTEXT IS LIKELY THAT OF SUPPORTING THEM IN THEIR WORK...
1. It was common for first century missionaries to depend upon the hospitality of the early Christians - cf. Philemon 22
2. In his third epistle, John commends Gauis for this sort of hospitality - 3 Jn 5-7
B. TO SUPPORT THEM IS TO SHARE IN THEIR EVIL DEEDS...
1. Supporting a teacher made one a fellow worker with him who taught
a. That could make one a fellow worker for the truth - cf. 3 Jn 8
b. But if his teaching was contrary to the doctrine of Christ, supporting him would be to share in his evil deeds - cf. 2 Jn 11
2. Therefore the admonition to the elect lady not to receive or greet such false teachers...
a. Is we should never seek to study with those in error who may come our way
b. Nor to receive those false teachers who seek only our acquiescence to their doctrine and our support in helping them spread it!
CONCLUSION
1. With this "Warning against Receiving False Teachers", John purpose in writing is fulfilled
2. He then signs off with a brief farewell...
a. Having so much more to write, but desiring to speak in person - 2 Jn 12
1) Why? "...that our joy may be full"
2) Despite the convenience of remote communication (e.g., writing letters, talking on the phone, sending email), nothing surpasses the joy of talking face to face
b. Sending greetings from "the children of your elect sister" - 2 Jn 13
1) How one interprets "the elect lady and her children" of verse 1 determines one's understanding of verse 13
2) Either members of another church, or relatives of the "elect lady and her children"
2. As we close our perusal of this epistle, I hope that we are left with a strong sense of need...
a. To walk in the truth
b. To walk in love
c. To be very careful about those teachers to whom we give our support
How is our walk today? Are we walking according to the doctrine of Christ concerning truth and love?
Remember the words of John...
"Whoever transgresses and does not abide in the doctrine of Christ does not
have God. He who abides in the doctrine of Christ has both the Father and the
Son."
References and Resources for III John